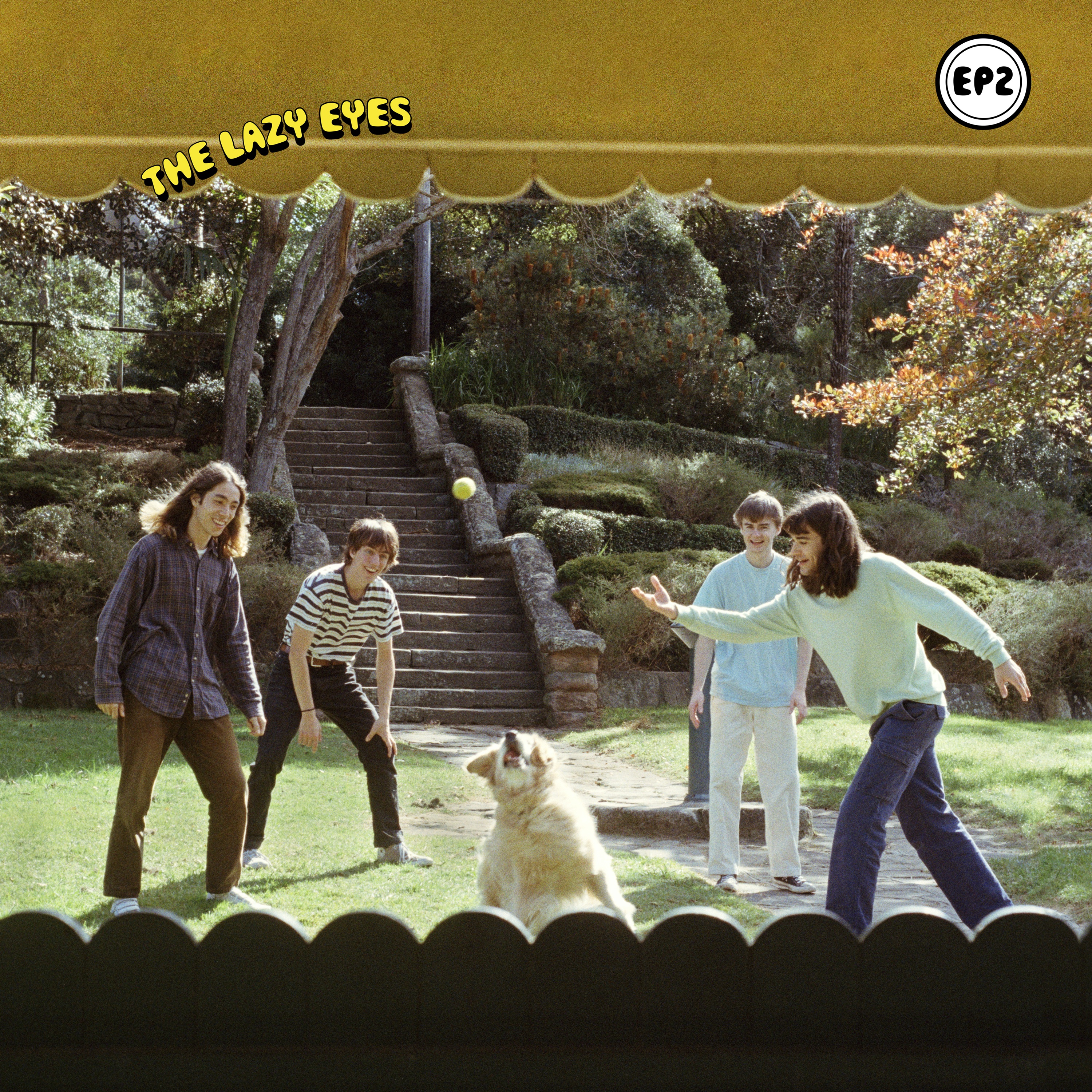 EP2 BIO The Lazy Eyes have cemented their position as a key emerging act in the golden age of Australian psychedelic music. Hailing from Sydney, the band are frontman Harvey Geraghty, guitarist Itay Sasha, bassist Leon Karagic and drummer Noah Martin.
Their sophomore EP, EP2 follows what under traditional circumstances would have been a breakout year for The Lazy Eyes, spent showcasing at a would-be SXSW (US), The Great Escape (UK) and Splendour In The Grass (AUS). Instead, they regrouped to Lindfield Studios, revitalised and focused on bringing their recordings to life.
The new single, 'The Island' was written about an imaginary utopia and acts as a sequel to 'The Seaside' (EP1). The mysterious Island embodies the escapism the band so often draw their inspiration from. 'Where's My Brain???' is their most distorted release to date, with hypnotic drums and bass and countless polymetric duelling guitar solos on top. 'Nobody Taught Me' was written about Harvey's trips to visit his grandparents in England and the friends he made while living there as a young boy.
The Lazy Eyes met at a performing arts high school at the tender age of 15. In the time since, they have built a cult following with their magnetic live set. Their debut EP, EP1 saw the band sell out headline shows, amass millions of streams and receive praise from the BBC's Jack Saunders, Apple Music's Matt Wilkinson, Bandcamp, NME, triple j, DIY Mag, The Line of Best Fit, i-D, Clash and many more.
Photos by Charlie Hardy EP1 and EP2 covers by Jack Moran
TOUR

DEC 09 - DEC 11 –
Festival of the Sun
Port Macquarie, Australia
Tickets ︎

JAN 15 –
King St Carnival
Sydney, Australia
Tickets ︎
Contact

BAND
Harvey, Itay, Leon and Noah
thelazyeyesband@gmail.com
MGMT
Travis Banko
travis@lunaticentertainment.com
BOOKINGS
AU/NZ - Evan Davis
evan@villagesounds.com
UK/EU/ASIA - Matt Bates
matt@primarytalent.com
US - Ryan Craven
rcraven@paradigmagency.com
PRESS
AU - Melody Forghani
melody@twntythree.com
US - Amanda Perlstein
amanda@twntythree.com
UK - James Parrish
james@prescription.co.uk